Dustin's Story
"I knew my sobriety wouldn't last," he says. "And without that, I was never going to see my kids again."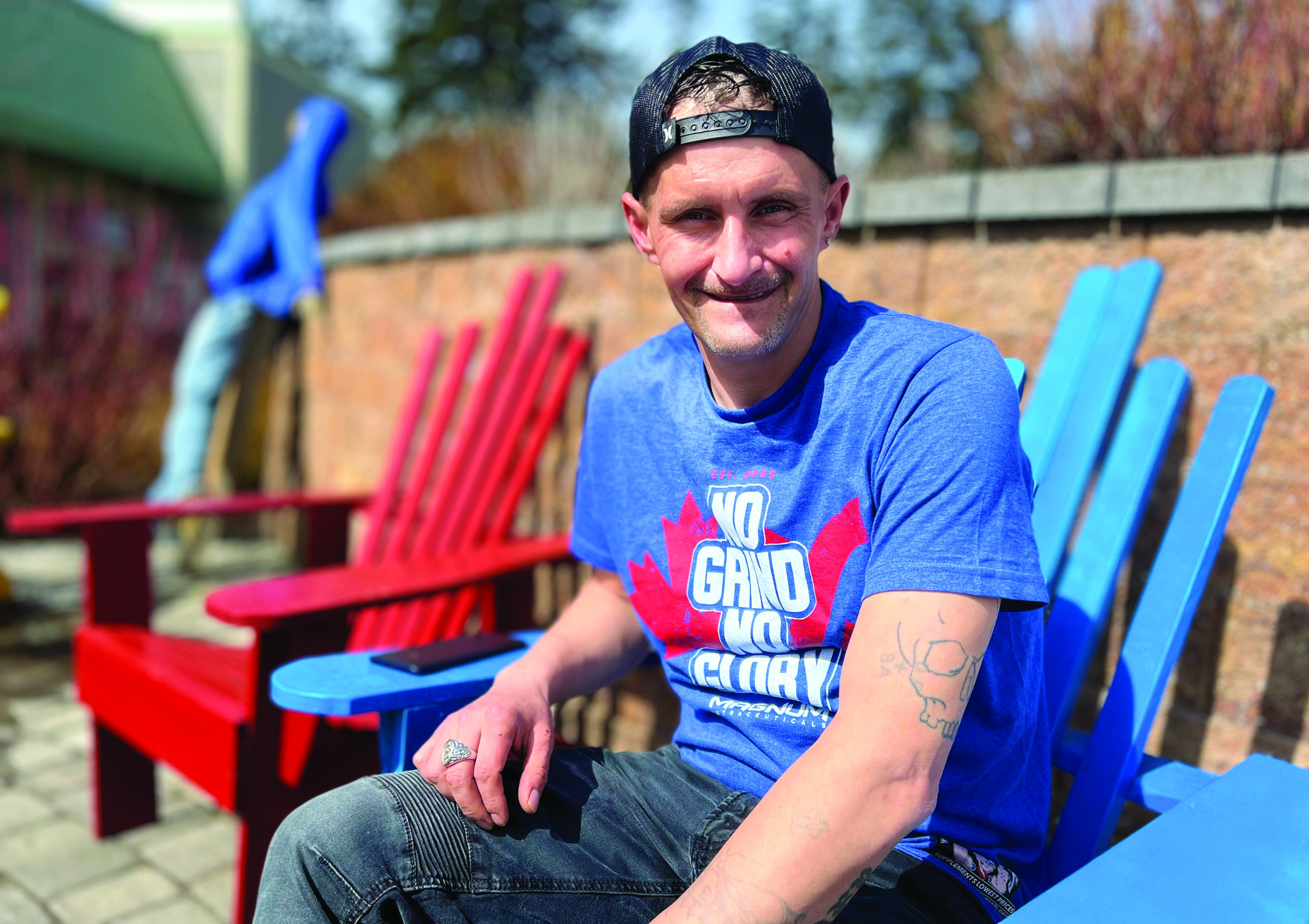 When he was six years old, Dustin's mom remarried and his new step-dad adopted him. It was a new beginning for his family, but unfortunately "my step-dad was not a very nice man," says Dustin, 42.
Violence at the hands of his step-father, ("There were weeks when I couldn't attend school," he says) led to early rebellion. And when Dustin turned 15, his mom gave him up to a foster home in Campbell River.
Instead of finding a loving home, however, his foster parents introduced Dustin to crack cocaine, and his downward spiral intensified.
With little interest in school, Dustin made his way down Island to Victoria where he began living on the streets and selling drugs to get by.
He lived on the streets for two years before returning to Campbell River where he fell for a woman nine years his senior. Together, they had a baby girl.
With the birth of his daughter, Dustin "settled down for a bit." Unfortunately, it didn't last.
After the break-up, Dustin met another woman and got married. Together, they bought a house from her grandparents and had three more children.
But just as it looked like things were looking stable, a serious work accident on a tugboat — and the pain meds that followed — sent Dustin spiraling again.
"I was confined to a wheelchair for a couple of years," Dustin explains. "I got my foot stuck in a byte (a loop of nautical rope), and it took my left foot nearly off."
A prescription for pain pills became a new addiction that was quickly supplemented by "other things".
Before he knew it, drug consumption consumed his thoughts and took control of his life.
"I used to just take off for weeks on end," he says, "my wife wondering where I was. I got into a dark place because I didn't want to go home high."
Inevitably, Dustin's marriage collapsed.
Alone, with a drug dependency and no job, Dustin returned to the streets of Victoria. He survived in homeless shelters and tents for 10 years before he ran afoul of the law and was sentenced to seven months in Wilkinson Road jail.
While incarcerated, Dustin got sober and applied for the jail's Right Living Community, a social support program that incorporates role-modelling and peer accountability to encourage positive personal growth.
But when it came time for him to re-enter community, Dustin knew he didn't yet have the necessary tools to be successful.
"I knew my sobriety wouldn't last," he says. "And without that, I was never going to see my kids again."
In jail, Dustin heard of New Roads Therapeutic Recovery Community, an integrated addictions and recovery centre operated by Our Place.
Dustin applied for the voluntary program and on the day of his release was met at Wilkinson prison gates by Le-Ann, New Roads intake manager.
"I can look in the mirror again," he says. "And start to love myself. I couldn't do it before."
Dustin has lived and thrived at New Roads over the last 14 months. He took on the role of Outside Co-ordinator where he works with the chickens ("I call them and they all come running to be fed," he says with a grin) and the fish in the pond.
But the biggest hurdle — winning back the trust of his children — is still a work in progress.
"It's been messy," he admits. "We're talking again, but I've broken promises in the past and I need to rebuild that trust. It's not that I didn't want to be around them; it's that I didn't want them to see me messed up."
His oldest child is 24, his youngest is 6.
Trust is something that haunts Dustin. It was broken early on in his relationship with his mom and step-dad, soured all of his past relationships, and ripped apart the bond with his children.
But through the work he has done on himself at New Roads, he is hoping that this time he can make it right.
https://newroads.ourplacesociety.com/wp-content/uploads/2022/06/Dustin-GOOD-scaled.jpg
1808
2560
Grant McKenzie
https://newroads.ourplacesociety.com/wp-content/uploads/2023/01/new-roads-logo.svg
Grant McKenzie
2022-06-20 10:54:39
2022-06-20 10:54:39
Dustin's Story